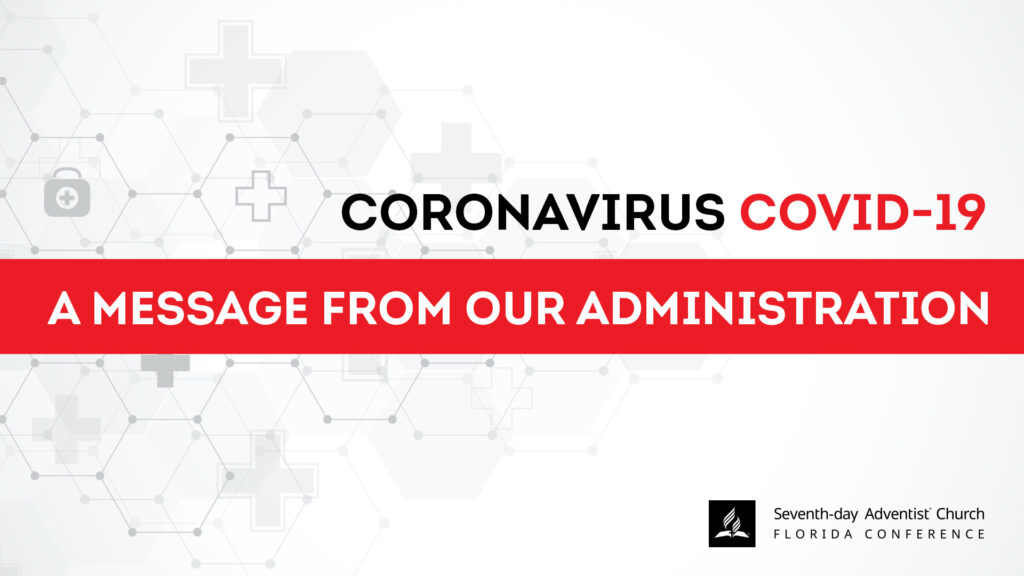 Coronavirus – Message from Administration

Dear Florida Conference Family,
Jesus is coming soon, and as Christians we are not surprised by the things we are witnessing in our world today.  As you know, the World Heath Organization recently declared the new coronavirus, COVID-19, a pandemic.
It is our responsibility to prepare ourselves and respond accordingly to this new challenge. Florida Conference is asking you to stay safe, follow the recommendations from your local county, the state of Florida, and government agencies such as the Centers for Disease Control. At this point in time, we are asking local congregations to determine how to operate—including worship services and local church events— based on local county and city recommendations.
We continue to monitor developments regarding this challenge and we will continue communicating to you whether we postpone or cancel future conference events. It is important to remain informed. Please see below relevant links from the Centers of Disease Control, AdventHealth, and Florida Department of Health.
Today more than ever, we should embrace the words of our Lord Jesus Christ: I will not leave you alone, my peace I give to you. Do not be afraid. The presence of the Lord will be with us until the end of time (John 14).
https://www.cdc.gov/coronavirus/2019-ncov/index.html
https://www.adventhealth.com/coronavirus-resource-hub
Coronavirus Resource Hub | AdventHealth
As the number of coronavirus cases continues to increase, AdventHealth is prepared to keep your community safe with new tools, guidance, diagnostic testing and screening questions based on CDC recommendations for faster diagnosis and continuous monitoring across our connected network of care. Get the latest information here, with new updates brought to you on a continuous basis. We're here for you as a resource to keep you feeling whole.
http://www.floridahealth.gov/diseases-and-conditions/COVID-19/covid19-toolkit.html
God bless you always,
Florida Conference Administrative Committee