AAA
,
ABC
,
Administration
,
Adventurers
,
Business
,
Camp Ministries
,
Community Services
,
Development & Planned Giving
,
Disabilities Ministries
,
Education
,
Entrepreneur
,
Entrepreneur
,
Everyone
,
Health
,
Human Resources
,
Innovation
,
Innovation
,
Men's Ministries
,
Metro
,
Metro
,
Ministerio Infantil y Vida Familiar
,
Pastoral Ministries
,
Pastors
,
Pathfinders
,
Prayer Ministries
,
Prison Ministries
,
Property Development
,
Public Relations / Media / Press
,
Publishing
,
Risk Management
,
Sabbath School
,
Secretariat
,
Service Center (Mail/Shipping/Receiving/Print Shop)
,
Singles, Children & Family
,
Spanish-language Ministries
,
Sports
,
Startup
,
Startup
,
Startup
,
Stewardship
,
Strategy
,
Strategy
,
Teachers
,
Tech
,
Tech
,
Tech
,
Tips and hacks
,
Tips and hacks
,
Treasury
,
Trending
,
VLP
,
Women's Ministries
,
Youth & Young Adult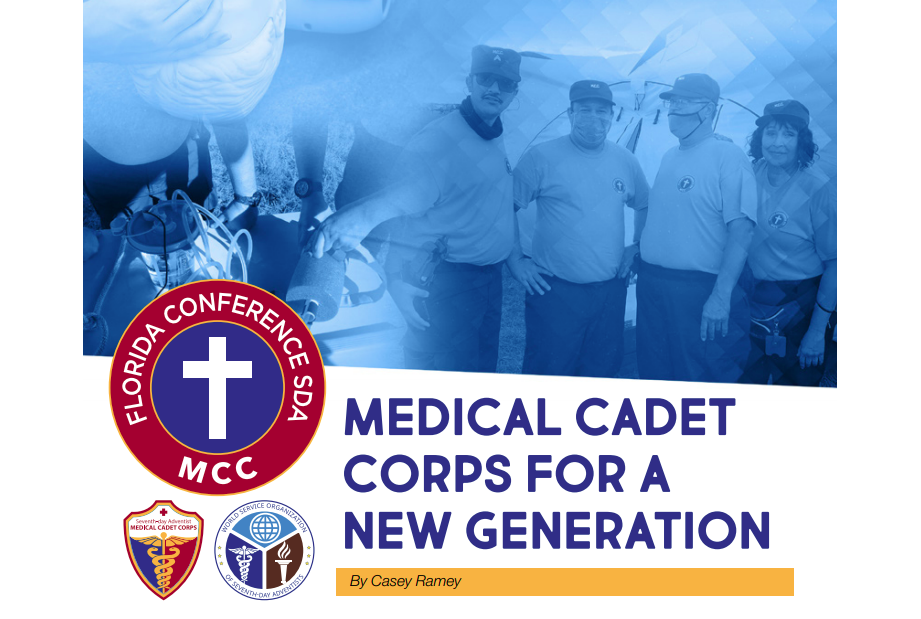 Medical Cadet Corps for a New Generation
My day began before sunrise at the Sanford International Airport. The airfield was lined with chairs, pop-up tents, and various booths, but void of people. I started unloading water bottles, and shuffling plastic totes of first aid supplies in preparation for the emergencies that I prayed wouldn't occur.
My commanding officer's voice broke through my thoughts, "Casey, this is the picture you want."
I joined him in looking at the western horizon. One of the most massive military planes in the world, a Lockheed C-5 Galaxy, lay sleeping with the moon just behind. A small green T-38 Talon faithfully stood guard. I snapped my picture.
Within an hour, the airfield came alive with firefighters, EMTs, nurses, vendors, and Medical Cadets all in masks. By 10:00 am, a crowd of 12,000 spectators streamed through the gates.
Shawn Treloar, the Sanford Fire Department Battalion Chief, tossed me the key to an ATV, and then I was carting EMS personnel, Basic Life Support (BLS) bags, AEDs, oxygen kits, and other essentials between the first aid stations. I sanitized stethoscopes, blood pressure cuffs, wiped down cots, and provided water and snacks for the patients amidst the roar of F-16 Vipers, A-10 Warthogs, and a slew of other military aircraft.
As deafening Thunderbirds zoomed overhead, my team leader, Sergeant Sherida Santana, explained, "I like Medical Cadet Corps (MCC) because it's different. I like to work for my church. With MCC, you can show love to other people who may not know Jesus."
The General Conference created the Medical Cadet Corps just before World War II. World War I veteran Everett Dick headed the first branch of the program at Union College in Lincoln, Nebraska, to pre-train Adventist young men for the U.S. Army in drill, military customs, and first aid. Other Adventist colleges soon adopted the program. By 1939, the General Conference officially adopted the Seventh-day Adventist Medical Cadet Corps (SDAMCC).
In 2018, the MCC program was revitalized by the World Service Organization-General Conference in Puerto Rico. The Florida Conference Brigade of the Medical Cadet Corps began operations in June 2020.
Cadets started training with online FEMA classes and a brigade-wide orientation to understand better how to assist local and federal relief agencies, which is the MCC's current focus.
Florida Conference Brigadier General Pedro Perez told me, "God has helped us every step of the way as we develop MCC. One of our goals is to continue to train cadets to be ready to give spiritual comfort when the opportunity presents itself. And we are in constant communion with God praying for open eyes and an open heart to testify when the chance presents itself." As we march into a New Year of new beginnings, we are excited to experience all that God has in store for Medical Cadet Corps and the glory to Him that we can bring as he makes all things new.