AAA
,
ABC
,
Administration
,
Adventurers
,
Business
,
Camp Ministries
,
Community Services
,
Development & Planned Giving
,
Disabilities Ministries
,
Education
,
Entrepreneur
,
Entrepreneur
,
Everyone
,
Health
,
Human Resources
,
Innovation
,
Innovation
,
Men's Ministries
,
Metro
,
Metro
,
Ministerio Infantil y Vida Familiar
,
Pastoral Ministries
,
Pastors
,
Pathfinders
,
Prayer Ministries
,
Prison Ministries
,
Property Development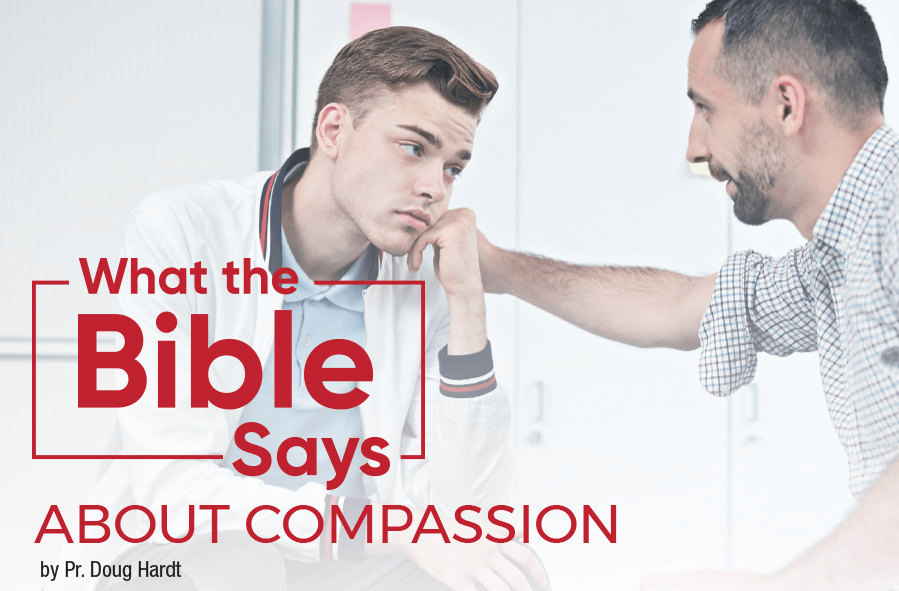 What the Bible Says About Compassion
Frank* was a new academy student who had severe learning disabilities. He spoke differently from the other kids. His eyes were crossed and his hair unkempt. He came from an impoverished home. He meant well, but no matter how he tried, he just didn't fit in with his peer group in high school.
I was six years old when I met Frank at the Seventh-day Adventist boarding academy where my parents taught. I remember watching an intramural game with my father when I heard some academy students make fun of Frank. I was sure he had seen and heard them, and I was angry at them for picking on Frank. I wondered how he felt to see his peers cross their eyes and mimic his voice and gestures. There was something in my six-year-old heart that hurt for Frank. This is the first time I remember having an acute feeling of compassion. To this day, I still remember how tears came to my eyes when I saw the brand-new coat my father purchased for Frank as winter was approaching. I knew Frank's family probably could not afford a new coat. I was proud that even though our finances were tight, my father felt the same feeling of compassion that I did and was willing to do something about it.
The Bible talks a lot about compassion, a topic incredibly pertinent to our world today. Much scholarly work has been done in the last couple of decades about the importance of empathy and compassion in the workplace and how they are vital to the success of any organization. The world is catching on to what an important ability it is for any productive person to understand and share another person's feelings. However, even though empathy— the ability to understand and share the feelings of others —is essential, compassion takes it a step further; you also have a desire to help them.
Compassion is exactly what the Bible encourages us to have. The apostle Paul exhorts believers to be "kind and compassionate to one another, forgiving each other, just as in Christ God forgave you," Ephesians 4:32. Again Paul states, "Therefore, as God's chosen people, holy and dearly loved, clothe yourselves with compassion," Colossians 3:12.
Apostle Peter also entreats the church to "be like-minded, be sympathetic, love one another, be compassionate and humble," I Peter 3:8. And this wasn't just a New Testament value, it was one of the attitudes that God reprimanded the Israelites in the Old Testament for not having. "This is what the Lord Almighty said: 'Administer true justice; show mercy and compassion to one another,'" Zechariah 7:9.
It is clear that in both the Old and New Testaments, God expects His people to exhibit this trait. Why? Because that is one of God's characteristics. The Psalmist says, "As a father has compassion on his children, so the Lord has compassion on those who fear him," Psalm 103:13. "The Lord is gracious and righteous; our God is full of compassion," Psalm 116:5. This is only one of a sampling of texts where God's prophets describe Him — a God who is not only compassionate but is full of compassion.
What a privilege it is for us that God gives us the ability to be like Him in this key characteristic. He promises the church, "I will give you a new heart and put a new spirit in you; I will remove from you your heart of stone and give you a heart of flesh," Ezekiel 36:26. Jesus warned us in Matthew 24:12-13 that there would come a time before His second coming when the hearts of many would grow cold, that they wouldn't want God's gift of a compassionate heart. How important is it then for us, God's people, to ask Him for this heart transplant where He gives us this ability to understand, sympathize with, and desire to help people around us? I pray we will have compassion so the "Franks" of the world will be comforted and be able to see the character of God.
*(name changed)